What is the electric facial bed? Electric Facial Bed with motors to control the Backrest and Leg-rest and the bed base can move up and down, above control is depend on the quantity of motors,1 motors,2 motors,3-4 Motors, it gives the beauty therapist increase the controllability and freedom on customer service.
The high-end electric facial bed can rotate 270 to 360 angle, leg-rest with extra extension, head part can adjust, arm-rest can take down and rotate 180 angle, this is a 4 motors electric facial bed.

(Electric Facial Beauty Bed White Upholstery 3 Motors)
There are all kinds of facial bed on the market, how can we judge which is good quality and match our requirement? Check the material and performance.
In the Material, Using the wearable and breathable leather.

4 layers high density sponge-try to press the sponge sure the resilience normally.

Automatically laser robot cutting with smooth surface and incision.

Using above 5mm thickness steel ensure the whole structure reliable.

The motor certificated by the CE in the Europe or using Germany motors.

All above you can check when you buy the facial bed.
In the Price, a product value for the money you paid, if it is unbelievable price on the market, pay more attention on it please, it might be the appearance same as the high quality facial bed, but the interior material used the recycle sponge from the rubbish, another one is the leather, bad air permeable result in bad customer experience.
The Electric Facial Bed is perfect for the high-end beauty center、dental studio、Physical therapy hospital、Massage center、etc.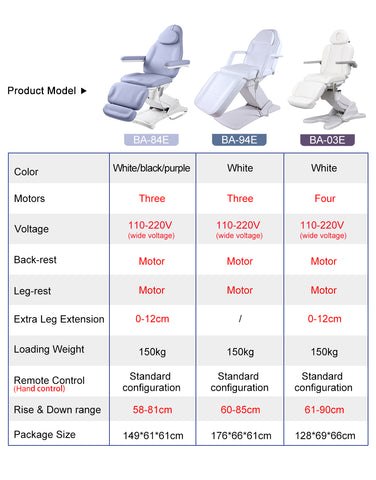 According to the budget to select what you want, electric facial bed market price from $599 to $2500, you get what you pay for, if there is beauty store you know well make a super sale online, don't worry about to buy it asap.